My CD for children aged 0-7 is now available to order for delivery! It's all about having fun with traditional children's folk songs. I'm so pleased everyone seems to love it! Scroll down to have a listen, read what people have been saying and to see some press coverage.
Price: CD - £12.50 (including postage), Download - £8 or both for £14.99
Suitable for: Ages 0-7
Payment: You can pay by card or Paypal.
UK Postage: The £12.50 price includes postage and packaging for UK mainland delivery. I will post it personally - please allow up to 5 working days for it to arrive (though it's usually quicker!)
Postage outside the UK: Please contact me for delivery outside the UK.
Guarantee: Your order is guaranteed to arrive safe and sound. I will replace anything that doesn't meet your expectations.
To order both please click either button - you'll be given the option to add the other and the final price will be the same.
Listen Now
What People Are Saying
(Scroll down for more!)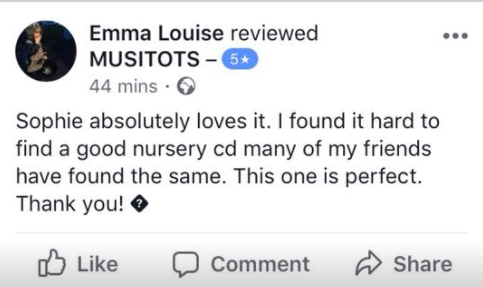 Track Listing
Bee-o
Over in the Meadow
Ally Bally
The Big Ship Sails
In the Garden (Ladybird)
The Bear Went Over the Mountain
All the Pretty Little Horses
Twinkle Twinkle
Bobby Shafto
As I Lay Sleeping
Tingalayo
Lavender's Blue
Nursery Rhyme Medley
Hush Little Baby
Lyrics are available on the Children's Songs page.
You can also pick one up in person for £10 at a Musitots session near you.
Musicians and Instruments
Rachel Purcell - Vocals and ukulele
Ben Church - Acoustic guitar and vocals
Chris Meredith - Fiddle
Tom Gibson - Bass, drums and percussion
Reviews and Press